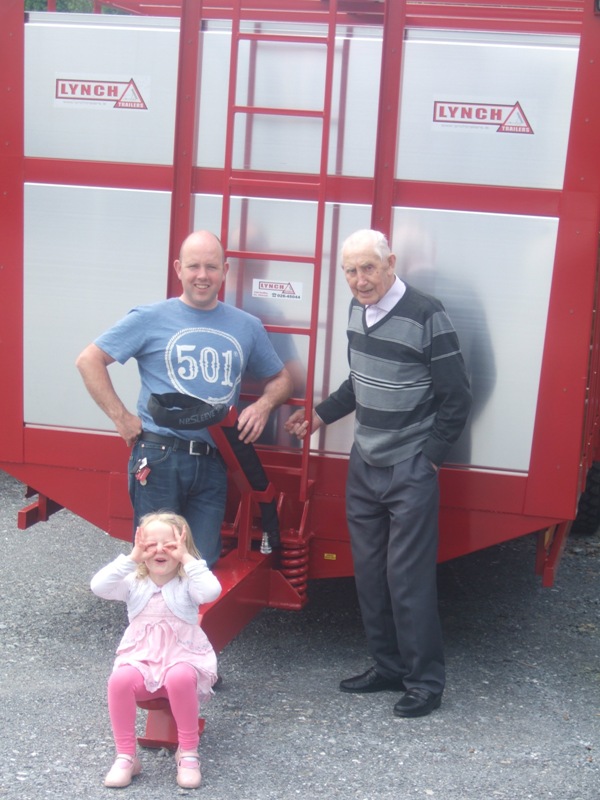 Three generations of the Lynch Family
Lynch Trailers was established in 1959
when Dan Lynch built a non tipping tractor trailer using the axle from the remains of a Commer lorry. Such was the demand for this trailer, that he built another and then a few more.............. Whilst non tipping flat trailer were the norm at the start, the tipping trailer was quickly introduced and this paved the way for larger grain and silage trailers etc. Since then, without interruption, we have been manufacturing trailers in Coolea village. Now known as Lynch Trailers, in times past we were commonly referred to in the Cork-Kerry region as the 'Coolea' trailer! Dan was renouned for hard work, good character and great trailers!

Forty-two years later,
in 2001, the business was taken over by Dan's son Donal. Equiped with a childhood of experience, loads of determination, and a Mechanical Engineering degree, Donal set about establishing Lynch Trailers as a national brand and expanded the companys product range significantly. We now manufacture an impressive range of tractor drawn trailers that includes multi-purpose tipping trailers, flat trailers, grain and silage trailers as well as a market leading range of livestock trailers.

Fifty-six years later, in 2014, we have invested in a complete new factory to cater for the increasing demand for our trailer products. The new factory includes dedicated manufacturing, sandblasting, spray painting and trailer assembly areas. Donal now runs the business together with his wife Agnes and a team of dedicated staff who strive for perfection every day!! Our business is based on 3 basic principles QUALITY, VALUE and HONESTY. We endeavour each and every day to provide our customers with high quallity, great value trailers that we stand behind 100%.