Tandem Axle CattleTrailer
Length
16ft, 18ft, 20ft, 22ft, 24ft, 26ft, 28ft & 30ft
Width
8ft standard width
Max Speed
60Km/hr
Gross Capacity
10,000 to 21,000Kg depending on model
Axle
6 stud, 8 stud or 10 Stud commercial, depending on trailer size
Wheel Size
435-50R19.5, 380-55R16 or 400-60R15.3 Singles as standard. Twin wheel options also available.
Flooring
Aluminium Chequer Plate
Cross-members
3" Channel Iron @ 16" centers
Paint
Sandblasted
Primer
Top Coat
Brakes

40K Models: Standard Hydraulic Brakes with parking brake and breakaway brake

60K Models: Air Brakes standard with load sensing and automatic slack adjusters.

Lighting

LED lights as standard
Side Marker Lights, Number Plate Light

High Level lighting standard on all many (but not all) models.
Rear reflective marking
Side reflective markers

Options
High level lightstandard on mosr models (front and rear), Internal Light
Multiple dividing gate
Various Twin Wheel Options also available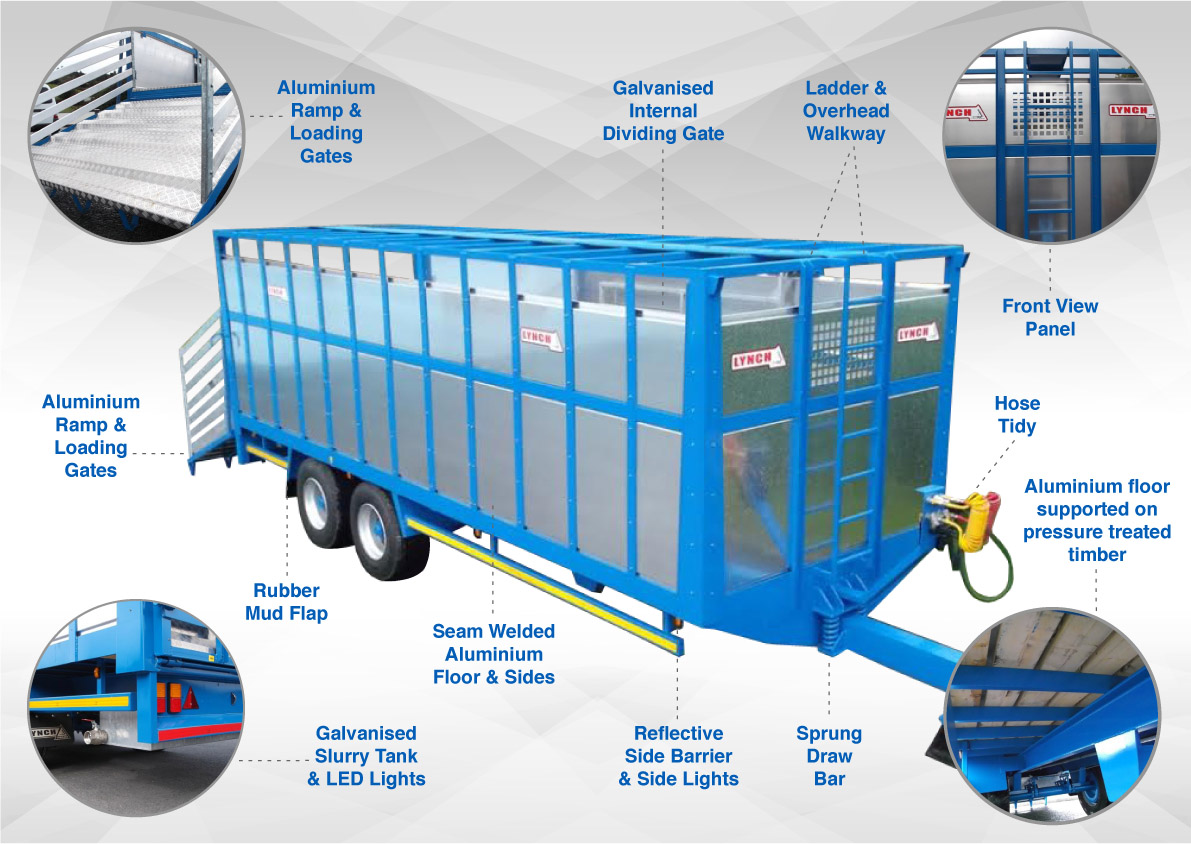 20ft Tandem Axle Cattle Trailer on 19.5 single wheels
3 MORE reasons to buy a Lynch CattleTrailer
NO COROSION : All items that come in contact with animal effluent on the Lynch range of CattleTrailer are either aluminium or galvanised. Lynch Trailers were the first company in Ireland to introduce the galvanised slurry tank and galvanised dividing gate as standard. Additionally, since 2015 all steelwork is fully sandblasted in-house before being primed and painted.
FLOOR CONSTRUCTION : Our aluminium chequer plate floor is supported on pressure treated imported timber planks. These timbers in turn are laid on channel iron cross members that are fitted at 16" centers. The timber planks are placed with a gap between them. This allows the timber to breathe and lets the air circulate around the timber. Not too dissimilar to the roof your house, air circulation around the timber is critical to ensure its long life. The timber also acts as a kind of shock absorber between the steel cross members and the aluminium floor, reducing the likelyhood of cracking of both the aluminium sheeting and the aluminium welding over the life of the trailer. Finally, aluminium floors that are supported on timber are more comfortable and much quieter when livestock move around on them as well.
BUILD QUALITY & FINISH: The design and build quality of our livestock trailers is second to none. All trailers are designd and manufactured with your livestock in mind. Sharp edges and corners are removed and the ramp design is such that there is no steel lip at the bottom of the ramp that may cause damage to an animals legs etc...A very useful front view panel allows the operator to see inside the trailer from the comfort of the tractor seat!
Contact Us Today
If you would like to discuss any aspect of our products please call us on +353 26 45044 or email us directly on [email protected].